Uderma Bio Acne Cream 5g.
Product Details

About This Shop

Promotions

Payment & Delivery
Description
Uderma Bio Acne Cream. All acne clear cream, together with prevention of atrophic acne scars. Eliminates all acne causes within 24 hours, reducing accumulation of P.acne bacteria and helps soothe irritated skin. Reduces inflammation and irritation from acne without drying. Ingredients contain with natural extracts and Bio peptide (sH-oligopeptide-1). Star Anise Extract is antimicrobial, anti-inflammatory and antioxidant, for a complete solution against the cutaneous manifestations of acne-prone skin. Tea Tree Oil anti-inflammatory and antimicrobial properties. It'&.,&s thought to calm redness, swelling, and inflammation. It may even help to prevent and reduce acne scars, leaving you with smooth, clear skin. Bisabolol Complex has powerful anti-irritant and anti-inflammatory properties. It is also antibacterial, so it helps prevent acne bacteria from proliferating, and anti-fungal. Maclura Cochinchinensis Extract rebalance the disturbed microflora of oily skin and, in turn, reduce acne blemishes. Matrix Salicylic Acid is a type of beta-hydroxy acid (BHA) that works best for mild acne (blackheads and whiteheads). It can also help prevent future breakouts. Centella Asiatica Extract Centella Asiatica (also know as cica) is naturally anti-microbial and anti-inflammatory which helps calm irritated skin. Cica can speed up the healing process and will clear up your skin faster while also preventing future blemishes. Allium Cepa Root Extract used to treat scars, they also relieve itching secondary to allergy. perfect combination with Biopeptide (sH-Oligopeptide-1) it stimulates collagen and elastin to improve skin texture and elasticity. By growing new cells, it strengthens the skin'&.,&s barrier meaning it can hold on to moisture better and maintain optimal levels of hydration Depending on the skin condition of the individual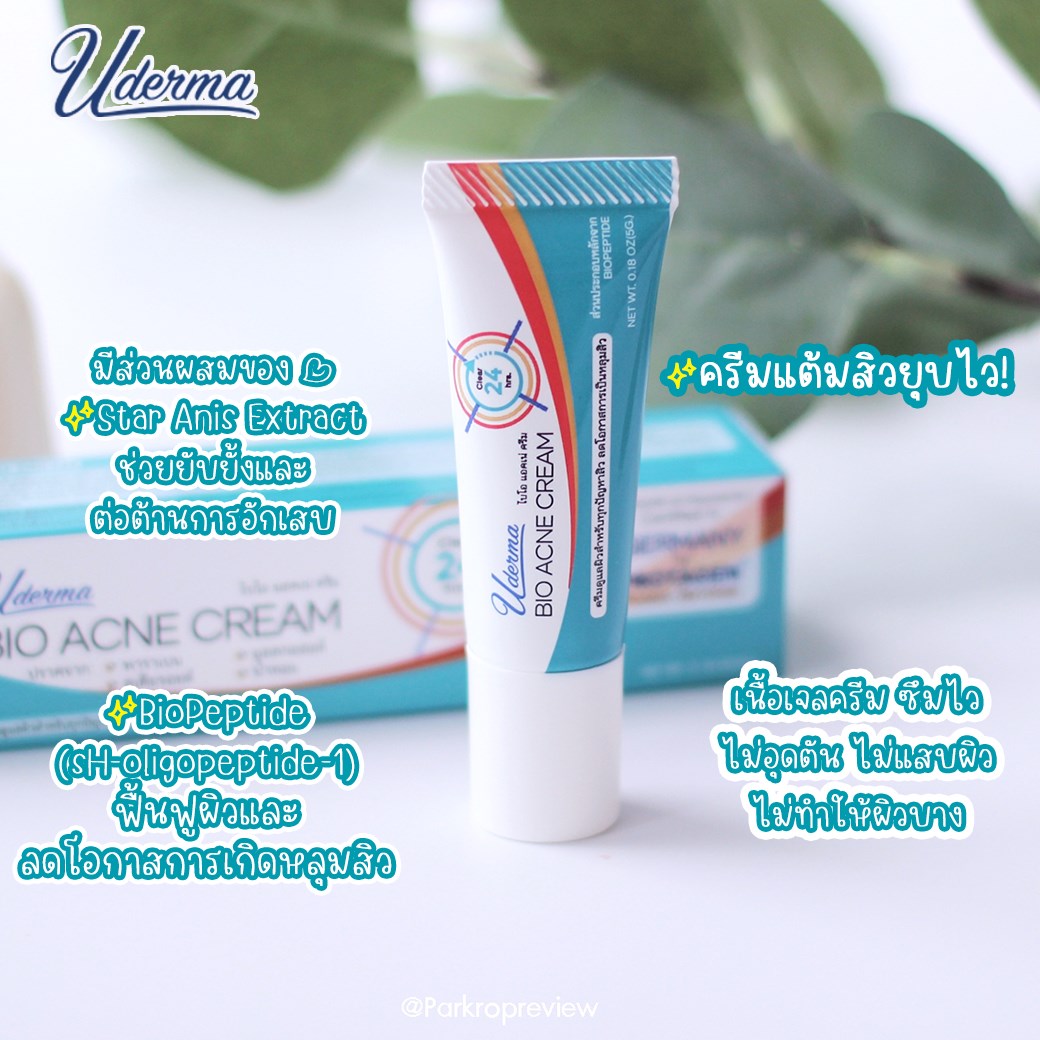 Place of Origin
Thailand
Registration Number
12-1-6300011912
Product Usage
Apply liberally as often as needed, at least 2 times a day
Ingredients
Star Anis Extract,Tea Tree Oil,Bisabolol Complex,Maclura Cochinchinensis Extract,Biopeptide (sH-Oligopeptide-1),Matrix Salicylic Acid, Centella Asiatica Extract,Allium Cepa Root Extract
Payment
You can place an order and choose to pay using either:
Credit or Debit card: Visa, Mastercard, JCB or Union Pay are all accepted. Unfortunately we do not accept American Express at this time.

Bank Transfer: both counter and ATM payments are accepted

Cash on delivery

Rabbit LINE Pay

Member points: If you are a member you can use your points to pay for any goods on our website, except for delivery charges.

E-voucher: During certain promotions you may earn an e-voucher, which you can use to pay for any goods on our website, except for delivery charges.
Return & Refunds
To request a refund please fill in the hard copy of return form you received in the order history of your account or attached in the email.

Then either post the item with return form back to Watsons at [Frasers Property Logistics Park Wangnoi 2, 141/47-48, Moo 2, Phayom Subdistrict, Wangnoi District, Ayutthaya 13170] or take your item, return form and receipt to any Watsons store.

Once we have received and verified your item a refund will be given in the following methods

Payment method : Credit card / Debit card | Refund method : Credit card / Debit card | Refund period : Within 30 days

Payment method : Bank transfer / ATM | Refund method : Cheque | Refund period : Within 30 days

Payment method : Cash on delivery | Refund method : Cheque | Refund period : Within 30 days

Payment method : Rabbit LINE Pay | Refund method : Rabbit LINE Pay | Refund period : Within 30 days
Term and condition: Supplier Direct Delivery – SDD (Items shipped directly from the brand owner company)
Look for the Supplier Direct Delivery icon on the product image for items shipped directly from the brand owner company.

Delivery times vary from approximately 3-7 days for Bangkok and its vicinity, 3-5 days for other provinces, and 4-7 days for specific areas.

If it's a product delivered directly from the brand owner company, contact customer service at

contactus@watsons.co.th

for assistance with return coordination.

The company allows product exchange/return within 7 days of the customer receiving the product, subject to the company's specified conditions.

Points, e-vouchers, and delivery charges are non-refundable per the company's policy.

Refunds for returned products will be processed within 30 working days after the company receives notification and the returned product, following the company's detailed conditions.

For product exchanges or returns, shipping fees may apply, which will be deducted from the refund amount. Additional shipping charges may apply if the replacement product exceeds the minimum value required for free delivery (499 Baht or more).

If the total amount of products delivered from the brand owner company (SDD) is below 499 Baht, the company will charge the specified delivery fee.

Specific promotions may not apply to products shipped from the brand owner (SDD). The company reserves the right not to participate in such promotions.

Not support for Home delivery express and Click and Collect at Watsons stores
Should you need further assistance please contact our Customer Service at telephone 02-017-8899 (9AM- 9PM Daily) or contactus@watsons.co.th
Thank you for your Shopping at Watsons Online